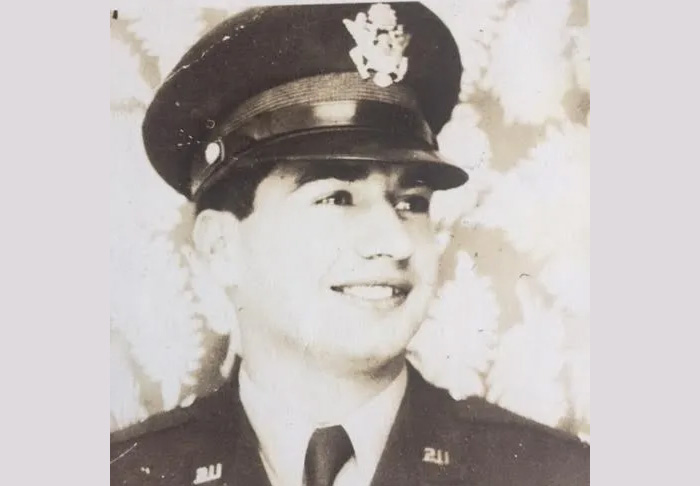 Larry devoted his own safety and future to salvage lives by flying extremely dangerous covert missions over occupied France during WWII. Decades later on this Memorial Day, that spirit is still there and making that caring difference.
Years back when I was first struggling in my fundraising role to get RIP Medical Debt off the ground, I was having lunch in NYC with a good friend and fellow veteran (me Navy, and Larry, Army Air Force) and mentioned my fledgling organization's efforts to bring medical debt relief to Americans.
Larry put his knife and fork down, pushed back his chair, and declared for the restaurant to hear, "I'll donate to that!" And he did, giving me heart and spurring me on. (My original Huffington Post article about this meeting is here.)
He was then at the age of 95, this Captain and WWII B-24 Bombardier/Navigator many times medaled (Air Medal with four Oak Leaf Clusters, Distinguished Flying Cross, the French Croix de Guerre with Palm, and five Bronze Stars). He became furious when he later learned that millions of dollars annually in unpayable medical debt were being run up by Veterans and owing through the VA and not available for forgiveness.
Like most Americans, myself included, Larry was under the impression that our country takes care of its returning warriors. Especially, their medical needs whether service-connected or not. They are not. Not nearly. Not enough.
It's About Those "Hoops" Needing to be Jumped Through
For example, Veterans who run up medical bills in civilian hospital emergency rooms and use ambulance services not "pre-authorized" end up being responsible for those expenses. There are circumstances where the VA will help (their "Hardship Program") relieve some or part of that debt, but with conditions that cause as much hardship and stress as the debt itself.
There are many "If's" and "when's" that need to be met to get "free" healthcare, such as having a recent change in income due to job loss or income reduction or extreme situations for which fewer and fewer applicants qualify. Starting with, a Veteran must be currently enrolled in the VA Medical, possibly its medical care hardship program, and receiving healthcare benefits.
What is the "real world" effect? Veterans, currently estimated at 16.5 million or 6.4% of our nation's population, are eligible for VA services. Only nine million, less than 50% of that group, are actually enrolled. Almost three-quarters of our Veterans will never see more than limited help. If any.
Is this truly the best way to say, "Thank you for your service?"
We've lost Larry – The Problem is Still Here – And I am More Focused
Larry's first question for me, whenever we met socially, was "How are we doing?" and taking great joy in each and every dollar that RIP continued to abolish. Almost two years ago on August 16, 2021 we lost Larry at the age of 100+. By then, the fledgling charity he helped lift off the runway had already reached over $1B in medical debt relief.
Today, that total is $8.6B, and 5.4M Americans no longer suffer from at least a portion of their medical bills. Not nearly enough of those are identifiable as Veterans.
I retired to RIP's Board in late 2020 to found Let's Rethink This (LRT) in early 2021 to concentrate on catching the VA's attention and cause (prod? annoy?) this behemoth into releasing the $6B – BILLION – in Veteran medical debt believed to be on their books for total and complete forgiveness.
The mechanism I chose is a Public Benefit "B" Corp – LRT – so that Veteran problems other than medical debt could be addressed – most notably Veteran suicides which researchers say are now running at 44 per day. PER DAY!
An amazing team of vets and Veteran advocates heard of my efforts and are now banded together to set in motion a national campaign called Veteran Mission Possible (VMP) to address these two major ills…and a few more needing America's attention.
The need to fund this ambitious effort is clear and compelling. VMP/LRT has the goods. We have an early track record and even a first-ever Veteran Medical Debt Summit under our belt. We have an awesome "Impact Awareness" machine in our recent media entry Rethinking Heroes (RH). We are gaining traction and attracting strong allies.
We just don't have Larry here to help.
A fundraiser (razr) is now in effect. You are invited to visit and contribute.
Support Veteran Mission Possible Here
Those of you who would like to do that and more, visit and join VMP and surround yourself with like-minded people who are action-oriented when it comes to helping our vets.
The fundraising goal is $75,000. As LRT is a "B" Corp and not a charity, contributions however large or small are not tax deductible. However, they can serve as a marketing or business write-off for charities or corporations who become our patrons or partners. Write for those details: This email address is being protected from spambots. You need JavaScript enabled to view it..
This is a wonderful opportunity to trade in that somewhat obligatory phrase, "Thank you for your service" into instead "Let me take a burden off your back."
Anything else need rethinking?