The people are divided. They choose discord and disharmony over unity and understanding. We see conflict in every town, city, and State and strife in nearly every neighborhood, resulting in national and international discontent.
Children disrespect their parents. Parents loathe their leaders, and the public hates the State. Bullets and drugs are killing teenagers, while protesters are removing police. Those who disagree with the people in power believe that this situation is destroying our planet.
But that result is NOT inevitable.
LET'S RETHINK THIS.
A Roadmap to Peace
A Delaware Corporation, Malian Manuscript Foundation Inc. is a 501 (C) (3) not-for profit charity with principal offices in Doylestown, Pennsylvania, dedicated to the rescue, preservation, translation, digitization, and global dissemination of scholarly works written in the 12th through 16th centuries, in Mali, northwest Africa. Contributions to the Foundation are deductible under Sec.170 of the IRS Code.
The Foundation's primary purpose is to increase awareness globally of the Ancient Manuscripts of Mali through film, mass media, social media, and advertising to digitize these Manuscripts and preserve them for posterity in climate-controlled libraries in Mali. The digitized Manuscripts will also be translated into many languages and shared around the world.
Malian Manuscript Foundation has an exclusive alliance with Sabatier Film Group, LLC, which produced the Award-Winning documentary film entitled "333" about the history of Mali, its ancient Manuscripts, and a group of scholars known as the "Ambassadors of Peace." The title "333" is derived from Mali's most famous city, Timbuktu, known as the city of 333 Saints for the 333 Sufi Saints buried there.
"333" previewed at The United Nations to three separate ovations, where women were brought to tears and men offered their services pro bono. After that presentation, "333" screened to select audiences in Europe and North America, all to positive acclaim. "333" provides viewers with a thorough history of Mali, its Ancient Manuscripts, and the "Ambassadors of Peace."
The Foundation received offers to screen "333" to Ambassadors' wives at the United Nations in New York City, from the former President of Afghanistan in Kabul and leaders of the Vatican in Rome.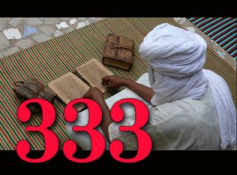 Photo by David West for Malian Manuscript Foundation ©2012
"333" brings to light a Muslim society that is moderate, scholarly, and loving. We learn about the Greater Jihad, where each Jihadist, male or female, strives to become harmonious with himself, his God, and all of humanity. This Jihadist's lifetime pursuit is to purify themselves by persistently purging evil thoughts and actions.
We also discover that a Fatwa is a legal ruling routinely used to end wars -- but not to start them. We get a picture different from that routinely reported in the media or propagandized by devious Muslim leaders.
Nearly one million Manuscripts were written in Mali during the 12th through 16th centuries. These Manuscripts covered almost every science and subject then in existence, including Astronomy, Architecture, Biology, Chemistry, Ethics, Geography, History, Islamic Law, Jurisprudence, Medicine, Music, Animal Rights, Children's Rights, Women's Rights, and most important, Mali's centuries-old tenets for the peaceful resolution of conflict through dialogue.
During these centuries, Mali was one of the wealthiest nations in the world, controlling two-thirds of the global gold supply and the trade in goods ranging from salt to slaves. Most of the international trade taking place at that time was in Timbuktu, and its University of Sankoré was the global center of Islamic learning.
Timbuktu was a bustling city of education, art, and culture where 25,000 students came annually from across Africa, Europe, the Middle East, and South Asia to gain an unrivaled education. Many of these scholars stayed on to write their Manuscripts, estimated to total nearly one million in aggregate. Our partner, the Library of Congress in Washington, DC, holds a sizable collection of digitized Ancient Malian Manuscripts, including one written roughly 900 years ago that tracks the trajectory of the stars in our heavens and others that fully address the peaceful resolution of conflict.
The wisdom from these manuscripts has been passed down from generation to generation by the "Ambassadors of Peace," who, daily before sunrise for nearly one thousand years, have sat in a forum called the "Circle of Knowledge," imparting Manuscript wisdom to their followers.
To become an Ambassador of Peace, the would-be candidates, whether male or female, must commit before reaching their 5th birthday to study under the guidance of a solitary teacher for thirty-five years. By the time these aspirants have reached the age of 10, they speak several languages and must recite the Koran by memory. And before
reaching the age of 40, these scholars must have mastered jurisprudence. Then, each apprentice must go out into the streets as a beggar to master humility. And then, finally, but only if they are in total harmony with God, they will become "Ambassadors of Peace."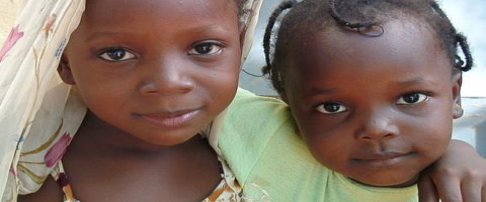 Photo by David West for Malian Manuscript Foundation © 2012
The film explores the Ambassadors' views on the true tenants of Islam and their centuries-old tradition of peacefully resolving conflict through dialogue, tolerance,
understanding, and forgiveness --- crucial elements for preventing and ending hostile confrontations and essential to the path to peace.
The Ambassadors and other Islamic scholars in the documentary make it explicitly clear that killing, whether of one's self or others, lies in direct opposition to God's Laws and the teachings of the Koran. According to the Ancient Manuscripts and the Koran - as emphasized in "333" - the killing of one's self or others is punishable in "Hellfire" and "does not lead anyone to Paradise."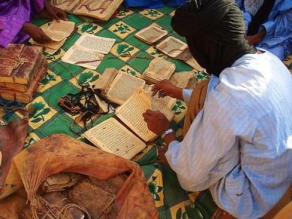 Please view our brief trailer for "333" attached to this article and be sure to check out the Malian Manuscript Foundation Website, where you can learn more.
Principal goals of "333" include the elimination of hatred and the mitigation of terrorism worldwide by establishing the TRUE tenets of Islam. The Koran, as the film shows, stipulates that Muslims revere Jews and Christians as people of the book and that all prophets after Abraham came from his seed.
We seek to mount a worldwide promotional campaign designed to enlighten everyone everywhere about the true tenets of Islam and what it means to be a Muslim. This effort will directly oppose what is repeatedly propagandized by evil-doers who have altered the Koran and what is commonly reported in the media, triggering loathing and controversy.
Malian Manuscript Foundation seeks sponsorship and supporters to achieve the following objectives:
Mitigate global terrorism in this 21st Century;
Create a peaceful dialogue aimed at establishing sustained harmony and tolerance amongst Jews, Christians, Muslims, and others, worldwide; 3. Present a global roadmap to peace;
Stimulate youngsters around the world to pursue a superior level of education and furnish them with a high moral compass;
Illustrate to the world that in a traditional Muslim society, girls and women can and do accomplish anything that men can; and
Disrupt recruitment activities by terrorist organizations globally. 7. Teach people to listen to others.